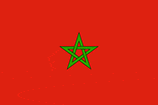 Morocco Tourism
Tourism is one of the most important sectors in Moroccan economy, it is well developed with a strong tourist industry focused on the country's coast, culture, and history . Morocco attracted more than 10 million tourists in 2013. Tourism is the second largest foreign exchange earner in Morocco after the phosphate industry. The Moroccan government is heavily investing in tourism development, in 2010 the government launched its Vision 2020 which plans to make Morocco one of the top 20 tourist destinations in the world and to double the annual number of international arrivals to 20 million by 2020,[57] with the hope that tourism will then have risen to 20% of GDP. A large government sponsored marketing campaigns to attract tourists advertised Morocco as a cheap and exotic, yet safe, place for tourists, most of the visitors to Morocco continue to be European, with French nationals making up almost 20% of all visitors. Most Europeans visit in April and the autumn, apart from the Spanish, who mostly visit in June and August In 2013. Morocco's relatively high amount of tourists has been aided by its location, Morocco is close to Europe and attracts visitors to its beaches. Because of its proximity to Spain, tourists in southern Spain's coastal areas take one- to three-day trips to Morocco. Air services between Morocco and Algeria have been established, many Algerians have gone to Morocco to shop and visit family and friends. Morocco is relatively inexpensive because of the devaluation of the dirham and the increase of hotel prices in Spain. Morocco has an excellent road and rail infrastructure that links the major cities and tourist destinations with ports and cities with international airports. Low-cost airlines offer cheap flights to the country.

Tourism is increasingly focused on Morocco's culture, such as its ancient cities. The modern tourist industry capitalizes on Morocco's ancient Roman and Islamic sites, and on its landscape and cultural history. 60% of Morocco's tourists visit for its culture and heritage. Agadir is a major coastal resort and has a third of all Moroccan bed nights. It is a base for tours to the Atlas Mountains. Other resorts in north Morocco are also very popular.[58] Casablanca is the major cruise port in Morocco, and has the best developed market for tourists in Morocco, Marrakech in central Morocco is a popular tourist destination, but is more popular among tourists for one- and two-day excursions that provide a taste of Morocco's history and culture. The Majorelle botanical garden in Marrakech is a popular tourist attraction. It was bought by the fashion designer Yves Saint-Laurent and Pierre Bergé in 1980. Their presence in the city helped to boost the city's profile as a tourist destination.

As of 2006, activity and adventure tourism in the Atlas and Rif Mountains are the fastest growth area in Moroccan tourism. These locations have excellent walking and trekking opportunities from late March to mid-November. The government is investing in trekking circuits. They are also developing desert tourism in competition with Tunisia.

Play Morocco Lotto
Morocco is famous for its lottery system, operated by LOTERIE NATIONALE. marocloto.com advise you to play responsibly.


Morocco Lotto Statistics
MAROCLOTO.COM provides a wealth of statistical information, gathered by a team of highly skilled experts, for people who have an interest in lottery statistics and probability. This unique website provides in-depth numerical data for morocco Lotto.

To provide the most up-to-date and accurate lotto statistics, the numerical information on MAROCLOTO.COM is updated within minutes of the different lottery draws taking place and is thoroughly checked. To view information for a lottery, simply choose the option you like from below including the most common numbers, consecutive number patterns, distribution of odds versus evens and bell curve statistics.

These pages shows you which MOROCCO LOTTO have been picked the most and least times on a Wednesday and Saturday evenings. You can see which are the most common and least common MOROCCO LOTTO winning numbers to drop out of the machine.

La MDJS au cœur de la compétition sportive | MDJS | La Marocaine des Jeux & des Sports

Depuis sa création en 1962, la MDJS détient le monopole de l'organisation et de l'exploitation des concours de pronostics portant sur les compétitions sportives. C'est le point de départ d'un long parcours au cours duquel la MDJS s'est positionnée comme acteur central et opérateur moderne dans le secteur de la loterie sportive au Maroc. Ceci, grâce aux produits qu'elle offre et qui répondent à la fois aux objectifs marketing et aux fondements de la politique de jeu responsable.

L'histoire de l'institution est intimement liée à celle du sport au Maroc. Mais en 1987, la création du FNDS, le Fonds National de Développement du Sport, a permis à la Marocaine des Jeux et des Sports de trouver sa vraie vocation en devenant le premier bailleur de fonds du sport national.

Offrant depuis ses débuts une importante variété de jeux, la MDJS innove régulièrement, choisissant de nouveaux produits qui répondent à ses objectifs commerciaux et qui sont toujours conformes à l'éthique de jeu responsable. Parmi les plus populaires, on trouve le jeu Cote&Foot lancé en 2005 devenu Cote&Sport en 2011, divers jeux de grattage et le jeu Chrono lancé en 2008.